Patrick C. Doheny
West Des Moines, IA
Next Generation Realty Des Moines
2011 NW 100th St.
Clive, IA 50325
Mobile Phone: 515-868-5221
Office Phone: 515-224-9900
Home Phone: 515-868-5221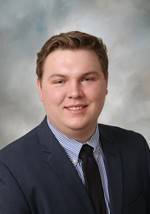 Patrick epitomizes integrity, honesty, hard work, and creative service in every part of your Real Estate transaction. Patrick was born and raised in Des Moines and has worked in sales since he was sixteen where he has sold everything from the electronics in your home to the shoes on your feet. Since then he has been looking forward to selling homes and joining his father in continuing the family business at Next Generation Realty.
Being raised in Des Moines, Patrick attended Sacred Heart Catholic School through elementary and graduated from Valley High School. Patrick grew up playing ice and roller hockey at Skate West and played for The DSM Junior Bucs and Oakleafs hockey teams. Sports have taught and shown Patrick the power of teamwork, communication, and passion.
Call Patrick at 515-868-5221 He'll work up a market analysis for you and help you meet all your real estate needs!
Properties for sale by Patrick Doheny:
| Address | City/State | Style | Price | Bedrooms |
| --- | --- | --- | --- | --- |
| 8601 Westown Parkway | West Des Moines, IA | 2-Story Townhome | $135,000.00 | 2 |
| 3518 Southeast 3rd Street | Des Moines, IA | 1 Story/Ranch/Bungalow | $150,000.00 | 3 |
| 103 E Rose Ave | Des Moines, IA | 1.5 Story | $150,000.00 | 3 |
| 502 8th Street Place SE | Altoona, IA | Split Foyer | $169,000.00 | 4 |
| 3021 Deep Woods Court | Des Moines, IA | 1 Story/Ranch/Bungalow | $227,000.00 | 4 |
| 4846 Timberline Drive | West Des Moines, IA | 2 Story | $410,000.00 | 4 |
| 3020 Tassel Lane | Adel, IA | 1 Story/Ranch/Bungalow | $429,900.00 | 4 |
Back to Agents